40 Positive Thinking Quotes
that Show the Brighter Side of Life
---
---
Welcome to Positive Thinking Quotes. Positive thinking gets positive results. The following quotes by eminent people underline the importance of positive thinking. To know more about positive thinking, click here.
Let us start with some positive quotes from Sir Winston Churchill, famed orator, statesman extraordinary and Prime Minister of England during the second World War.


The positive thinker sees the invisible, feels the intangible, and achieves the impossible.
~ Winston Churchill


Speaking for myself, I am an optimist - it does not seem to be much use being anything else.
~ Winston Churchill



A pessimist sees the difficulty in every opportunity; an optimist sees the opportunity in every difficulty.
~ Winston Churchill
Ralph Waldo Emerson (1803 – 1882) was an American essayist, poet, and leader of the Transcendentalist movement in the early nineteenth century. Innumerable quotes of his are famous and found all over the internet. The following are some of his positive thinking quotes.


So of cheerfulness, or a good temper, the more it is spent, the more of it remains.
~ Ralph Waldo Emerson



Though we travel the world over to find the beautiful, we must carry it with us or we find it not.
~ Ralph Waldo Emerson



People only see what they are prepared to see.
~ Ralph Waldo Emerson
Some More Positive Thinking Quotes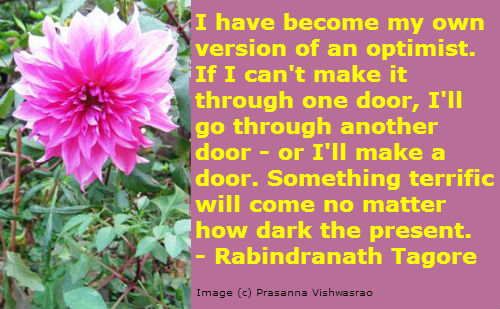 Rabindranath Tagore (1861-1941) from India won the Nobel Prize for Literature in 1913 for his collection of poems titled Gitanjali.
I have become my own version of an optimist. If I can't make it through one door, I'll go through another door - or I'll make a door. Something terrific will come no matter how dark the present.
~ Rabindranath Tagore

Once you replace negative thoughts with positive ones, you'll start having positive results.

~ Willie Nelson (American country singer)


There are always flowers for those who want to see them.
~ Henri Matisse

---
When I hear somebody sigh, "Life is hard," I am always tempted to ask, "Compared to what?"
~ Sydney Harris



When you get into a tight place and everything goes against you, till it seems as though you could not hold on a minute longer, never give up then, for that is just the place and time that the tide will turn.
~ Harriet Beecher Stowe



The habit of looking on the bright side of every event is worth more than a thousand pounds a year.
~ Samuel Johnson




I have had dreams and I have had nightmares, but I have conquered my nightmares because of my dreams.
~ Dr. Jonas Salk



Keep your face to the sunshine and you cannot see the shadow.
~ Helen Keller



Wherever you go, no matter what the weather, always bring your own sunshine.
~ Anthony J. D'Angelo



We must accept finite disappointment, but we must never lose infinite hope.
~ Martin Luther King, Jr.



Pessimism never won any battle.
~ Dwight D. Eisenhower



The World is what we think it is. If we can change our thoughts, we can change the world.
~ H.M. Tomlinson



If you think about disaster, you will get it. Brood about death and you hasten your demise. Think positively and masterfully, with confidence and faith, and life becomes more secure, more fraught with action, richer in achievement and experience.
~ Swami Vivekananda



Every day may not be good, but there's something good in every day.
~ Author Unknown



Some of the world's greatest feats were accomplished by people not smart enough to know they were impossible.
~ Doug Larson



A loving person lives in a loving world. A hostile person lives in a hostile world. Everyone you meet is your mirror.
~ Ken Keyes, Jr.



We do not see things as they are. We see them as we are.
~ Talmud



Trouble is only opportunity in work clothes.
~ Henry Kaiser



Two men look out the same prison bars; one sees mud and the other stars.
~ Frederick Langbridge



He who limps is still walking.
~ Stanislaw J. Lec



A pessimist is one who makes difficulties of his opportunities and an optimist is one who makes opportunities of his difficulties.
~ Harry Truman



Act as if it were impossible to fail.
~ Dorothy Broude



Don't judge each day by the harvest you reap, but by the seeds you plant.
~ Robert Louis Stevenson



Positive thinking is powerful thinking. If you want happiness, fulfillment, success and inner peace, start thinking you have the power to achieve those things. Focus on the bright side of life and expect positive results.
~ Germany Kent


It's a funny thing about life, once you begin to take note of the things you are grateful for, you begin to lose sight of the things that you lack.
~ Germany Kent
Instead of saying, "I'm damaged, I'm broken, I have trust issues" say "I'm healing, I'm rediscovering myself, I'm starting over.
~ Horacio Jones



Believing in negative thoughts is the single greatest obstruction to success.
~ Charles F. Glassman



I do not fix problems. I fix my thinking. Then problems fix themselves.
~ Louise Hay


Everything is within your power,
and your power is within you.
~ Janice Trachtman
Remember, happiness doesn't depend upon who you are or what you have; it depends solely upon what you think. So start each day by thinking of all the things you have to be thankful for. Your future will depend very largely on the thoughts you think today. So think thoughts of hope and confidence and love and success.
~ Dale Carnegie


We can throw stones, complain about them, stumble on them, climb over them, or build with them.
~ William Arthur Ward



Always show kindness and love to others. Your words might be filling the empty places in someone's heart.
~ Mandy Hale


Positive thinking can be contagious. Being surrounded by winners helps you develop into a winner.
~ Arnold Schwarzenegger

End of Positive Thinking Quotes.
---
All Quotation Pages
---