54 Attitude Quotes that Highlight the Importance of Right Attitude
---
---
Welcome to Attitude Quotes.
Your altitude in life is determined by your attitude, not your aptitude, says Zig Ziglar.
When we view a coin from the front, we see a circle. When we look at it from the side, it looks like a straight line. Same coin, different views.
In the same way, if we look at a situation from different angles we get different views. That is attitude!
The importance of right attitude can be understood from the following attitude quotes. Remember that the right attitude sees the silver lining in a dark cloud while the wrong attitude sees only the dark cloud. Hope this collection of attitude quotes helps you to develop the right kind of attitude.
Talent and intelligence apart, it is hard work and attitude that determines success.
Attitude Quotes - I
Our greatest glory is not in never falling, but in rising every time we fall.
~ Confucius


Life is full of obstacle illusions.
~ Grant Frazier



There are three kinds of people: those who make things happen, those who watch things happen, and those who wonder what happened.
~ Nicholas Butler Murray



Success is getting what you want. Happiness is liking what you get.
- Anonymous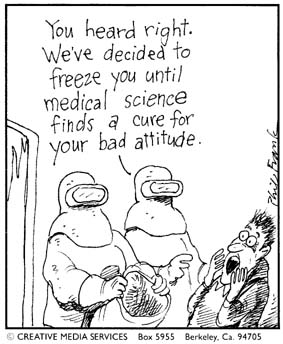 You see things; and you say "why?" But I dream things that never were and say "Why not?"
~ George Bernard Shaw



It is a funny thing about life; if you refuse to accept anything but the best you very often get it.
~ W. Somerset Maugham



People seem not to see that their opinion of the world is also a confession of character.
~ Ralph Waldo Emerson



A stumbling block to the pessimist is a stepping-stone to the optimist.
~ Eleanor Roosevelt



Pain is inevitable. Suffering is optional.
~ Dalai Lama



Imaginary obstacles are insurmountable. Real ones aren't.
~ Source unknown



The greatest revolution of our generation is the discovery that human beings, by changing the inner attitudes of their minds, can change the outer aspects of their lives.
~ William James



What life means to us is determined not so much by what life brings to us as by the attitude we bring to life; not so much by what happens to us as by our reaction to what happens.
~ Lewis L. Dunnington



You will never find time for anything. If you want time you must make it.
~ Charles Buxton



Don't take anything personally. Nothing others do is because of you. What others say and do is a projection of their own reality, their own dream. When you are immune to the opinions of others, you won't be the victim of needless suffering.
~ Don Mifuel Ruiz
Attitude Quotes - II
There is nothing either good or bad, but thinking makes it so.
~ William Shakespeare



What the caterpillar calls the end, the rest of the world calls a butterfly.
~ Lao Tzu



I had the blues because I had no shoes until upon the street, I met a man who had no feet.
~ Ancient Saying



It's so hard when I have to, and so easy when I want to.
~ Annie Gottlier



Oh, my friend, it's not what they take away from you that counts. It's what you do with what you have left.
~ Hubert Humphrey



Attitude is a little thing that makes a big difference.
~ Winston Churchill



Every day may not be good, but there's something good in every day.
~ Author Unknown



If you don't like something, change it; if you can't change it, change the way you think about it.
~ Mary Engelbreit


Defeat is not bitter unless you swallow it.
~ Joe Clark



The only disability in life is a bad attitude.
~ Scott Hamilton



Whenever you fall, pick something up.
~ Oswald Avery



We awaken in others the same attitude of mind we hold toward them.
~ Elbert Hubbard



What counts is not necessarily the size of the dog in the fight - it's the size of the fight in the dog.
~ Dwight Eisenhower



Look at everything as though you were seeing it either for the first or last time.
~ Betty Smith



We cannot direct the wind but we can adjust the sails.
~ Author Unknown



A happy person is not a person in a certain set of circumstances, but rather a person with a certain set of attitudes.
~ Hugh Downs



The Kingdom of Heaven is not a place, but a state of mind.
~ John Burroughs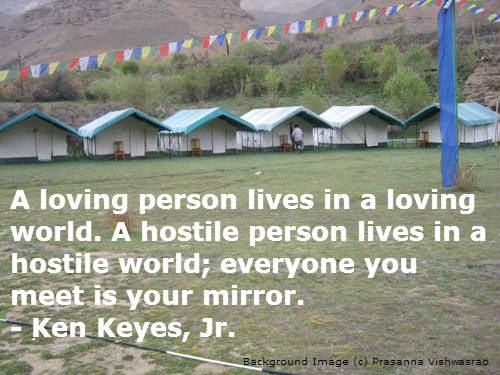 A loving person lives in a loving world. A hostile person lives in a hostile world; everyone you meet is your mirror.
~ Ken Keyes, Jr.
We are what we pretend to be, so we must be careful about what we pretend to be.
~ Kurt Vonnegut



Attitude is a choice. Happiness is a choice. Optimism is a choice. Kindness is a choice. Giving is a choice. Respect is a choice. Whatever choice you make makes you. Choose wisely.
~ Roy T. Bennett



It isn't what you have or who you are or where you are or what you are doing that makes you happy or unhappy. It is what you think about it.
~ Dale Carnegie



If you are distressed by anything external, the pain is not due to the thing itself, but to your estimate of it; and this you have the power to revoke at any moment.
~ Marcus Aurelius



Nothing in this world can take the place of persistence. Talent will not; nothing is more common than unsuccessful men with talent. Genius will not; unrewarded genius is almost a proverb. Education will not; the world is full of educated derelicts. Persistence and determination alone are omnipotent. The slogan Press On! has solved and always will solve the problems of the human race.
~ Calvin Coolidge


The greater part of our happiness or misery depends upon our dispositions, and not upon our circumstances.
~ Martha Washington



Reject your sense of injury and the injury itself disappears.
~ Marcus Aurelius



We cannot change our past... we cannot change the fact that people will act in a certain way. We cannot change the inevitable. The only thing we can do is play on the one string we have, and that is our attitude. I am convinced that life is 10% what happens to me and 90% of how I react to it. And so it is with you... we are in charge of our Attitudes.
~ Charles R. Swindoll



A man is happy so long as he chooses to be happy.
~ Aleksandr Solzhenitsyn



When a man is prey to his emotions, he is not his own master.
~ Benedict de Spinoza



The problem is not the problem. The problem is your attitude about the problem
~ Captain Jack Sparrow



Tough times don't last, tough people do, remember?
~ Gregory Peck



The only thing that stands between a person and what they want in life is the will to try it and the faith to believe it is possible.
~ Rich DeVos



There is very little difference in people, but that little difference makes a big difference. The little difference is attitude.
~ W. Clement Stone



Your present circumstances don't determine where you can go they merely determine where you start.
~ Nido Qubein



You can't always control circumstances. However, you can always control your attitude, approach, and response. Your options are to complain or to look ahead and figure out how to make the situation better.
~ Tony Dungy
End of Attitude Quotes.
---
All Quotation Pages
---