About Me

---
---
Hi, I am Prasanna Vishwasrao from Mumbai, India. I am the owner of this site.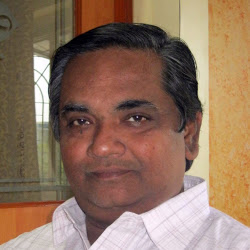 Self development is my subject of passion. It is also the cool topic of today. It has helped me grow and realize my true potential. Here is my story.
By profession, I am a Maths professor. I used to teach Maths to A and AS level IGCSE (affiliated to University of Cambridge) students at a college in suburban Mumbai. I now privately tutor IB students and students of CAT(management entrance test) and MBA-CET.
Around 1990-91, the Indian economy started opening up. As a result, many American companies/institutes set up shops in India. The self development industry also descended on India. In 1991, I attended the first seminar of Jose Silva in India. I was literally blown up !
My first car was a result of creative visualisation that I learned for the first time in this seminar. I had taken a loan of 75% for the car. But to this day I don't know how I was able to raise the remaining 25% of the amount. Creative visualisation took care of that !
After that I was hooked. I read every available book on the subject, attended all seminars/programs that were available and in general, immersed myself in the subject of self development. This site is the result of all my learning over the years and the urge of telling people something that I know that could help them.
In 1993, I had a small lump between my thighs. My doctor told me to get a biopsy done. I was frightened and started dreaming nasty things about the lump. Again creative visualisation and affirmations helped me. The lump vanished in six weeks!

Thus, my belief in self development went on increasing. As a maths teacher, I have always found that the majority of students found maths to be a difficult subject. This was mainly due to the fear of maths. I taught affirmations to some of these students. Not all the students were sold out to affirmations, but some did. And many of these students started showing progress in maths!
In the meantime, I learned self hypnosis and then hypnosis and continued attending all types of self development seminars and meetings.
Encouraged by all this, I took my first seminar of students, where I spoke about self help and the way to do it. This resulted in many more such seminars.
But one cannot say everything one wants to say in a seminar as the time is limited. That's how the idea of a website was born. I know that a lot is yet to be done. I hope that the information provided here is helpful to many people. Though nothing is original, I have tried to put it in my own style. I hope you like it.
Please give me your feedback through the Contact Us form. That will help me improve the web site.
If you have any success stories on self improvement, please post them in the relevant form given here.
A BIG THANK YOU to all for visiting my site.

---