78 Action Quotes to Prod You
to Take Action
Welcome to Action Quotes. Action is at the root of any success. The following quotes explain the importance of action
A man may be equipped with tonnes of theory. He may have the best of skills, the most positive of attitudes and the strongest of beliefs. But if he just sits on his butt with all these attributes, nothing is going to come out of it. Action is the basis of all success. Every action may not give success but at the same time no success is possible without action. The following action quotes will shed light on the importance of action in life. Remember that action is the vehicle of success. Read and try to follow what the action quotes say.


It's the action, not the fruit of the action, that's important. You have to do the right thing. It may not be in your power, may not be in your time, that there will be any fruit. But that doesn't mean you stop doing the right thing. You may never know what results come from your action. But if you do nothing, there will be no result.
- Mahatma Gandhi
Action Quotes-I
You miss 100% of the shots you don't take.
~ Wayne Gretzki
An idea not coupled with action will never get any bigger than the brain cell it occupied.
~ Arnold Glasow
You don't have to be great to start, but you have to start to be great.
~ Joe Sabah
Don't be afraid to take a big step. You can't cross a chasm in two small jumps.
~ David Lloyd George
We are what we repeatedly do. Excellence then, is not an act, but a habit.
~ Aristotle
The superior man acts before he speaks, and afterwards speaks according to his action.
~ Confucius
The superior man is modest in his speech but exceeds in his actions.
~ Confucius
You cannot score a goal when you are sitting on the bench. To do so, you have to dress up and enter the game.
~ Israelmore Ayivor
Action Quotes-II
Let every man or woman here remember this, that if you wish to be great at all, you must begin where you are and with what you are. He who would be great anywhere must first be great in his own Philadelphia.


The journey of a thousand miles begins with a step.


We do not act rightly because we have virtue or excellence, but we rather have those because we have acted rightly.


God provides the wind, but man must raise the sails.


Never confuse motion with action.


Nature takes away any faculty that is not used.


Be content to act, and leave the talking to others.


Action Quotes-III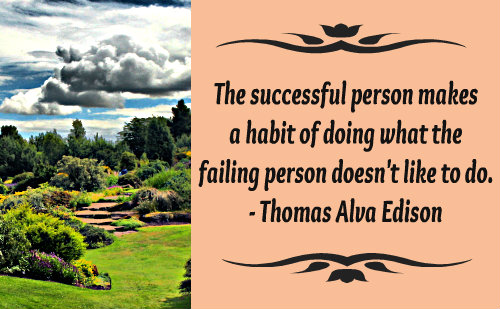 The successful person makes a habit of doing what the failing person doesn't like to do.


The first step binds one to the second.


Victory belongs to the most persevering.


What you do speaks so loudly that I cannot hear what you say.


For all sad words of tongue and pen, the saddest are these, 'It might have been'.

- John Greenleaf Whittier



I do not believe in a fate that falls on men however they act; but I do believe in a fate that falls on them unless they act.


I never worry about action, but only inaction.
Action Quotes-IV
Begin to free yourself at once by doing all that is possible with the means you have, and as you proceed in this spirit the way will open for you to do more.


If you don't make things happen then things will happen to you.


That which we persist in doing becomes easier - not that the nature of the task has changed, but our ability to do has increased.


If you wait, all that happens is that you get older.


Don't bother just to be better than your contemporaries or predecessors. Try to be better than yourself.


You will either step forward into growth or you will step back into safety.


Action is the last resource of those who know not how to dream.
Action Quotes-V


People may doubt what you say, but they will believe what you do.


Action may not always bring happiness ... but there is no happiness without action.


We do not need, and indeed never will have, all the answers before we act ... It is often through taking action that we can discover some of them.


Preach! Write! Act! Do any thing, save to lie down and die!


Do the thing you are afraid to do and the death of fear is certain.


Take time to deliberate, but when the time for action has arrived, stop thinking and go in.


Well done is better than well said.
Action Quotes-VI


Always do more than is required of you.


Inaction breeds doubt and fear. Action breeds confidence and courage. If you want to conquer fear, do not sit home and think about it. Go out and get busy.


Action hangs, as it were, dissolved in speech, in thoughts whereof speech is the shadow; and precipitates itself therefrom. The kind of speech in a man betokens the kind of action you will get from him.


Everywhere in life, the true question is not what we gain, but what we do.


Our grand business is not to see what lies dimly at a distance, but to do what lies clearly at hand.


As I grow older, I pay less attention to what people say. I just watch what they do.
Action Quotes-VII


Life leaps like a geyser for those who drill through the rock of inertia.


Trust only movement. Life happens at the level of events, not of words. Trust movement.


Inspirations never go in for long engagements; they demand immediate marriage to action.


The world cares very little about what a man or woman knows; it is what a man or woman is able to do that counts.


Small deeds done are better than great deeds planned.


Whatever you do may seem insignificant to you, but it is most important that you do it.


Often we are caught in a mental trap of seeing enormously successful people and thinking they are where they are because they have some special gift. Yet a closer look shows that the greatest gift that extraordinarily successful people have over the average person is their ability to get themselves to take action.


Action Quotes-VIII


Make up your mind to act decidedly and take the consequences. No good is ever done in this world by hesitation.


There are risks and costs to a program of action. But they are far less than the long-range risks and costs of comfortable inaction.


For purposes of action nothing is more useful than narrowness of thought combined with energy of will.


Are you in earnest? Seize this very minute! Boldness has genius, power, and magic in it. Only engage, and then the mind grows heated. Begin, and then the work will be completed.


Be content to act, and leave the talking to others.
Action Quotes-IX


Action is the antidote to despair.


We are all inclined to judge ourselves by our ideals; others, by their acts.


Let your performance do the thinking.


Someone's sitting in the shade today because someone planted a tree a long time ago.


The critical ingredient is getting off your butt and doing something. It's as simple as that. A lot of people have ideas, but there are few who decide to do something about them now. Not tomorrow. Not next week. But today. The true entrepreneur is a doer, not a dreamer.


A good action is never lost; it is a treasure laid up and guarded for the doer's need.

- Pedro Calderon de la Barca
Action Quotes-X


Everything you want is out there waiting for you to ask. Everything you want also wants you. But you have to take action to get it.


The vision must be followed by the venture. It is not enough to stare up the steps - we must step up the stairs.


Not everything that is faced can be changed, but nothing can be changed until it is faced.


All problems become smaller if you don't dodge them but confront them.


Men acquire a particular quality by constantly acting in a particular way. We become just by performing just action, temperate by performing temperate actions, brave by performing brave action.


Well begun is half done.


Action Quotes-XI


The only correct actions are those that demand no explanation and no apology.


Begin -- to begin is half the work, let half still remain; again begin this, and thou wilt have finished.

- Decimus Magnus Ausonius



It is easy to sit up and take notice, What is difficult is getting up and taking action.


We judge ourselves by what we feel capable of doing, while others judge us by what we have already done.

- Henry Wadsworth Longfellow



If you have built castles in the air, your work need not be lost, that is where they should be. Now put foundations under them.


Outstanding people have one thing in common: an absolute sense of mission.
Action Quotes-XII
Nothing happens untill something moves.


The secret of getting ahead is getting started.


Think like a man of action, and act like a man of thought.


Do unto others as you would have others do unto you.


The world can only be grasped by action, not by contemplation. The hand is the cutting edge of the mind.


I have been impressed with the urgency of doing. Knowing is not enough; we must apply. Being willing is not enough; we must do.


Go for it now. The future is promised to no one.
---