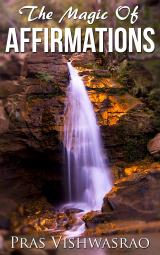 Now on sale!
Affirmations eBook
The Magic Of Affirmations is the only book you will ever need about affirmations. The ebook has more than 130 pages of information given on this site about affirmations plus some more! It is available for sale on Amazon Kindle, for only $4.99. So hurry up and buy NOW!
You don't need a Kindle to download and read the ebook. You can download and install the free Kindle app for PC from the same page as the ebook..
Here is the download link from Amazon Kindle.